There were negotiations in 1964 between representatives of Robert Mouzillat and the Eastman Kodak Company intended to lead to the acquisition of the patent rights to the 3D camera by the Eastman Kodak Company of Rochester, New York. Following meetings and correspondence between the parties a satisfactory outcome could not be reached.
However the matter was revived some years later. In a letter of 2 June 1992 the then Commercial Director of Kodak Pathe concluded that: "I have never seen such images that, moreover after 40 years in storage, maintain their quality of origin, definition and colours"

We were pleased to be approached by The Art Newspaper who were interesting in covering the Collection as an article in their publication. It was published in September 2008, on page 9, titled "Picasso in three Dimensions".
Picasso is no longer with us, but a cache of stereoscopic photographs of him has emerged that allow one to see the old superstar in startling 3-D. The photographer was a French inventor and educator called Robert Mouzillat, who had created his own method for stereoscopic colour photos. He took thousands of pictures of nature, surgical operations, the golfer Arnold Palmer and even a few of the pope in a red sports car. In 1957, he was invited down to Picasso's house in the south of France, La Californie, where he took dozens of photos of the artist in his studio, with his family and then mistress, Jacqueline Roque, with friends, including the dealer Louise Leiris, the art critic and collector Douglas Cooper, and the goat. There are also numerous pictures of Picasso and friends at a bullfight in Arles. Here we have (left) horseplay between Picasso with a friend (Oscar Dominguez), with, in the middle, John Richardson, subsequently to become his biographer, and (right) Picasso in his studio with his sculpture of a fawn on his shoulder. These photos now belong to Mouzillat's daughter, Elizabeth Mouzillat Jowett, who is based in the UK and is now considering the most suitable place for them to end up. A.S.C.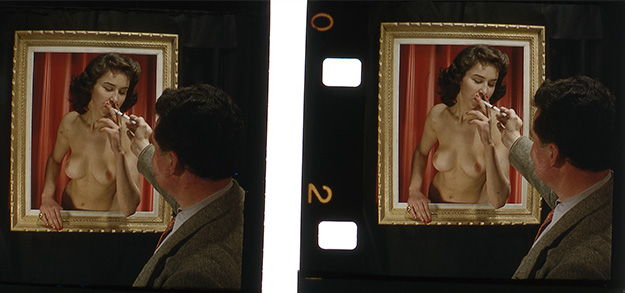 The Collection holds 260 posed photographs of nudes were taken in Paris in the 1950s. At the time, there were then strict regulations in place, for example, the Folies Bergére staged nude tableaux but none of the ladies was permitted to move. For the photographs to be taken In keeping with the law of the time, a Police licence was required and obtained by RoMo.
The former chairman of Sotheby's, New York, the late Charlie Moffett asked Elizabeth Mouzillat Jowett at a meeting in New York whether there were any nudes in the Collection. On being told that there were a significant amount, he said that in his opinion 'they were potentially the most important part of the Collection'.
Stereocards were sold under the following headings: Étude 1, 2 & 3; Nuit Vénitienne ; Nudist Camp, Strip Tease; Romance – Cabaret and Variations 1 – 11. Apart from the stereocards a number of the images have been printed as black and white photographs.
Charlie Moffett has been a very good friend of Elizabeth Mouzillat Jowett since 1970 when he was at the Metropolitan Museum of Art, New York and of her father Robert Mouzillat whom he used to visit on his frequent trips to Paris. His distinguished career continued at the National Gallery of Art, Washington DC where he was Senior Curator of Paintings in the late 1980s and early 1990s. He was appointed the first non family Director of the Phillips Collection in Washington DC from 1992 to 1998. In 1998 he joined Sotheby's as Executive Vice-President and Vice Chairman of Impressionist, Modern and Contemporary art. He has advised on the potential exploitation of the RoMo Image Library in view of the advancing technology in stereoscopic imagery.
Robert Mouzillat established a company Le Livre Universel in the 1950's. He worked with J. Arthur Rank on a joint project to create ''talking books'. These were hardback picture story books sold together with a vinyl record upon which the story was recorded by actors of La Comédie Francaise. Titles include 'La Forêt Magique' and 'Le Premier Matin de Noël'.
After Robert's passing, we've been working on understanding the content of the entire collection, currently estimated to be over 100,000 images. Fully appreciating the content and condition of the various images, image formats, other media (including some film footage) has been a priority to be able to fully understand the scale of the collection.
In 2008 Betty Thayer, a retired Ernst & Young partner and internet entrepreneur, joined the RoMo team as business advisor. She met Robert Mouzillat when he was visiting Bath in 2003 and discussed with him at length the possibilities for commercialising the collection. Her understanding of the issues associated with preparing the collection for sale, and her extensive network of relevant connections are important contributions as we move forward.
In 2010, Catherine Kirby, a professional Archivist, was brought on to catalogue the collection using archival database software ADLIB, keeping as close as possible to the original way that the creator Robert Mouzillat had organised the collection.
In 2011 we launched this website, alongside a refreshed RoMo Images brand, to allow those interested in the collection to be able to find out more information.
In 2012 we started experimenting, with the help of Robbie Andrews, who came on board as Technical Advisor, with looking at how we could utilise these images in a polarization stereoscopic format to be displayed on modern screens. Original testing was successful and has led us to continue to explore further modern means that would allow the collection could be viewed.
There have already been numerous enquiries by many interested parties about the future of the collection and we look forward to the exciting road ahead.